Desperate times they say call for desperate measures yet, ritual murders should never be what's at the other end of such call. Here's why we say so:
1. The boys that attempted getting rich before 17
The world keeps getting crazier by the minute. Everyone wants to get rich quick including teenagers!
Three young boys aged 15 years were caught attempting to use a younger child for money ritual. Imagine! And they are just fifteen years old!
Emomotimi Magbisa, Perebi Aweke and Eke Prince, all natives of Sagbama community of Bayelsa State, allegedly accosted one Endeley Comfort.
They were caught in the early hours of January 3rd in Sagbama community with the girl, their 13-year-old would-be victim.
Apparently, these boys hypnotised her to follow them to the apartment of Emomotimi Magbisa, cut off her finger and sprinkled the blood on a mirror for ritual purposes.
Let's just thank God they did not succeed. They were caught by a passer-by that suspected their 'ill' movement.
2. The yahoo boy who tried plucking out his mother's eyes for Mercedes Benz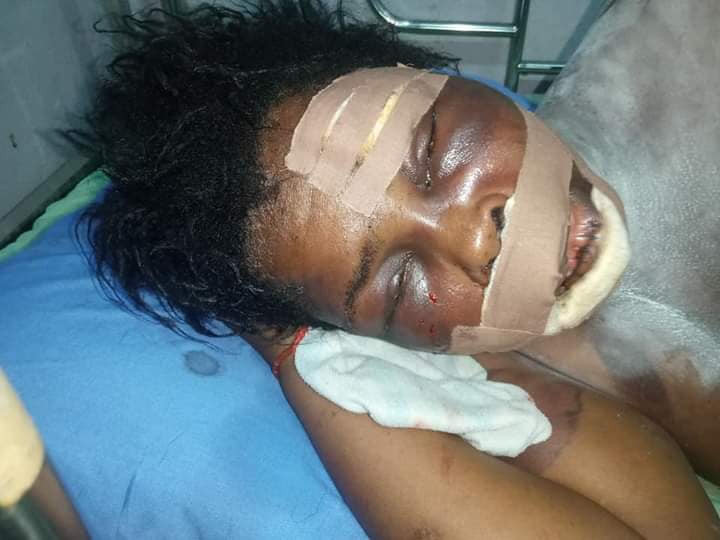 'Crazy things are happening' in Tems' voice, yes, really crazy things.
Well, Nollywood has been filling us with movies about people sacrificing their loved ones for money. We also see these cases in our contemporary society, and yes it still baffles.
A young man named Emma Ereegarnoma tried to pluck out his mother's eyes in a bid to buy Mercedes Benz.
On September 14, 2021, he attempted to render his mother blind in his own house at Okuokoko town in Okpe Local government area, Delta State.
He invited his mother, a petty trader to his home for the greatest surprise of her life. After welcoming her, he locked the door and proceeded to strangling her.
There was also loud music from home theatre system drowning her cries for help. But fortune was on her side, as she was able to break free from her son's hold and run out to the neighbours who rescued her.
The world is now a place where people love money than their loved ones. They are basically converting their loved ones into paper money.
By the way, the son was arrested and is hopefully awaiting trial. His mother was taken for medical care at a hospital in Okuokoko. When asked about what happened, she narrated how her son had been boasting that he would buy a car that week.
3. The man caught while attempting to cut off a woman's breast
Another heartbreaking story happened in a motel in Orumba South Local Government Area of Anambra State. A 41-year-old suspected ritual killer, Ogbonna Nwankwo, attempted to cut off a woman's breast.
It is unknown if Ogbonna had planned a hookup with his would-be victim, 29-year-old Bella Joseph. What is known is that early in the morning at the Dollar Inn Motel, he attempted to murder her.
After stabbing her with a knife in her stomach, the suspect tried to cut off the right side of her breast for ritual purpose.
In those moments he must have thought she was dead but she wasn't. She drew the attention of the motel manager with shouts for help.
Ogbonna tried escaping but was caught and beaten to stupor by angry youths in the area. It was a severe beating that landed him at the hospital.
4. The one that wanted to behead his girlfriend like a goat
It happened on SETRACO Road, along Amassoma/Ogobiri axis of Bayelsa on September 21, 2021.
The suspect, Sunday Favour Ojo, was caught attempting to behead his girlfriend, Deborah Emafridom, a student of the Niger Delta University (NDU) Wilberforce Island.
He had been dating his would-be victim until he lured her to the place he intended for her death.
The suspect lured his girlfriend to a nearby bush where there was an uncompleted building. He tied her hands, poured acid on her face and was about to cut her throat when he realised he didn't have a waterproof bag to put her body parts so left her momentarily to buy.
On his way, he met some of the community youths who had seen him earlier with his girlfriend. They asked why he was alone, only for him to reply that she had been kidnapped.
It was then that they caught on to his suspicious activities and forced him to show them where she was kept.
Meanwhile, the victim struggled and crawled her way out to the roadside where she was rescued by a Keke Napep driver who rushed her to the hospital.
Not everyone gets a second chance at life.
These few stories are just a handful of the lucky ones who survived what would have been a tragic end to life. Imagine how sad if the victims in these stories were not rescued.
At least, we can learn from their experiences. Never trust anyone 100% even if they are your family member. Always be attentive to suspicious activities around you and may God help us all.
What's your reaction to the story?