We live in exciting times; despite sad occurrences we are witnessing, such as the war in Ukraine and conflicts around the world, and the threats of climate change, there are equally interesting things that are happening around the world.
Here are six (6) interesting things that happened around the world and you probably don't know about.
1. NASA Hires a priest to prepare humans against alien contact/ discovery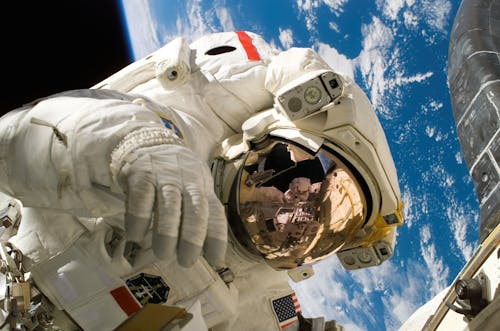 Are we alone in the universe? Where is everyone else? NASA has been the only space agency to explain the mystery of space, the stars, and planets.
Almost everything we know and accept about space today was confirmed by NASA after the moon landing and orbiting the earth. There have been controversies about alien sightings, UFOs, and Area 51, a US military base that keeps alien information secret.
But did you know they recently hired a priest to prepare the people of the earth in case they contact extraterrestrials? And why is it now, after years of controversies, are they taking this alien talk seriously?
It is known that they sought the help of Rev Dr. Andrew Davison, a British priest, to determine how different religions around the world would react to news of extraterrestrial life. So far, they have recruited 24 theologians as part of the project.
If anything comes up, like finding life on another planet, I hope it's not kept secret, and we all get to hear about it.
2. Satan after school club in Illinois
Did you ever join an after-school club when you were a child? So, you know what it means to be in a school club and how it influences every aspect of your life.
Imagine joining the most controversial and crazy club as a child or instead for your child. Yes, imagine being a member of the club of Satan.
At an elementary school in Moline, Illinois, school children were invited to an "after-school Satan club". The devil is not hiding again in the shadows.
We all know that the belief in good and evil is heralded by two major beings in the universe, God and Satan. The ideal is to be morally good for God while vanquishing evil, just like in your typical Superhero movie. However, now people want to teach children about the devil?
The world is fast becoming a place we don't recognize, with everyone wanting to do whatever they want with themselves and with children.
The Satanic Temple targeted schools where Good News Clubs also operate. If you ask me, this is nothing but a form of countering Christianity.
3. China creates artificial sun
China created their own sun; yes, they did. It was engineered by
It was engineered by a nuclear fusion reactor and runs five times hotter than the sun. According to Xinhua News Agency, this "artificial sun" reached temperatures of 70,000,000C during the experiments for 17 minutes.
The ultimate aim of developing the artificial sun device is to deliver near-limitless clean energy by mimicking the natural reactions occurring within stars. But who knows the true heart of man except for God?.
This project cost China more than £700bn.
4. An AI that can generate pictures with text
It was only a matter of time before AI-powered systems began to paint. We have been using computer tools to draw and paint for years, so we expected them to start doing it on their own by now, even though it sounds mind-blowing at first.
Some of these apps are dream by Wombo and starry AI. These drawings can be created with texts or human prompts. It generates pictures based on ideas to create original "artworks".
It's very simple and easy to use. You describe what you want it to paint, like "A terrifying tree" or "The worst sandwich in history". You can also pick an art style from the selection offered, such as Mystical, Baroque, Fantasy Art, Steampunk, etc.
5. We finally created the flying car
Humans have been expecting flying cars since the birth of the airplane. For years it has been the most anticipated technology, and now today, it's very real.
A car that can transform into an aircraft just passed the flights tests in Slovakia. And yes, with flying colors.
The "AirCar" as it is called, is now deemed safe after 70 hours of testing consisting of 200 manned takeoffs and landings.
The company behind the aircar is Klein Vision. According to the company, a pilot license is required to fly the hybrid vehicle. The "AirCar" will also be commercially available within 12 months from January 2022.
The "AirCar" is powered by a 1.6L BMW engine and runs on regular fuel. It can fly at a maximum operating altitude of 18,000 feet. After takeoff, the car turns into an aircraft, and when it lands, it is converted back into a car. A
6. Climate change
Climate change is getting more severe and serious each passing year. The poles are still melting with drastic effects across the globe. Many areas around the world are expanding year after year. A clear example is the Sahara, which has already extended 6,000 square kilometers since 1990. The cold regions are getting colder and the hot, hotter.
Also, the bees are dying at a scary, alarming rate. These death are not caused by parasites or insecticides. They are dying out, and it's a bad sign. Without the bees, the entire ecosystem would be altered, and we wouldn't have flowers, fruits, and even some animals.
What's your reaction to the story?